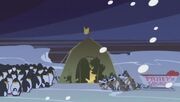 PANTYaGOGO2.5
is the third vehicle utilized by
Panty
and
Stocking
in order to retrieve the many copies of Panty's porn flick, before the debut of the "
Sex and the Daten City
" movie. It is a dog sled. The name blazened on the side is mysteriously missing the traditional double exclamation point, perhaps implying that only whole numbers receive them.