Jurassic World: Dominion Dominates Fandom Wikis - The Loop
Play Sound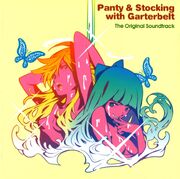 Theme for Scanty & Kneesocks is an electronic/dance song by TeddyLoid. It was included in the series' first musical score, Panty & Stocking with Garterbelt The Original Soundtrack
About
The song was created using vocals from "Vocal Forge", a program with a large library of voice samples.
The song is featured most prominently in the series as Scanty and Kneesocks' transformation theme, however an instrumental version is often included in scenes featuring the pair.
The album version of the song is noticeably different to the version featured in the TV episodes. The album version primarily uses what sounds like a clarinet on a synthesizer while the TV version uses organ pipes. The TV version was later released on Panty & Stocking with Garterbelt The Bonus Soundtrack.
Lyrics
I want you
To make believe
It's the first time
And I gotta
Say to you
Love will find a way
And that's always true
I want you you you you you
To make believe
It's the first time time
And I gotta
Say say say to you you you you
Love will find a way
And that's always true
I want you you you you you
To make believe
It's the first time time
And I gotta
Say say say to you you you you
Love will find a way
And that's always true
And I gotta
Always true
And I gotta
True true true true true
To make believe
Always true
To make believe
Want you, Want you, Want you
Love will find a way and that's
Want you, Want you, Want you
Love will find a way and that's
First time
And I gotta
First time
And I gotta
First time
And I gotta
You, You, You, You, You,
To make believe it's the
To make believe it's the
To make believe it's the first time
To you, to you, to you
Love will find a way and that's
To you, to you, to you
Love will find a way
And that's always true
I want you you you you you
To make believe
It's the first time time
And I gotta
Say say say to you you you you
Love will find a way
And that's always true
I want you you you you you
To make believe
It's the first time time
And I gotta
Say say say to you you you you
Love will find a way
And that's always true
Party people put them up
Take it down and turn it up
Party people put them up
Take it down and turn it up
Party people put them up
Take it down and turn it up
Party people put them up
Take it down and turn it up
I want you
To make believe
It's the first time
And I gotta
Say to you
Love will find a way
And that's always true
I want you you you you you
To make believe
It's the first time time
And I gotta
Say say say to you you you you
Love will find a way
And that's always true
I want you you you you you
To make believe
It's the first time time
And I gotta
Say say say to you you you you
Love will find a way
And that's always true
Trivia